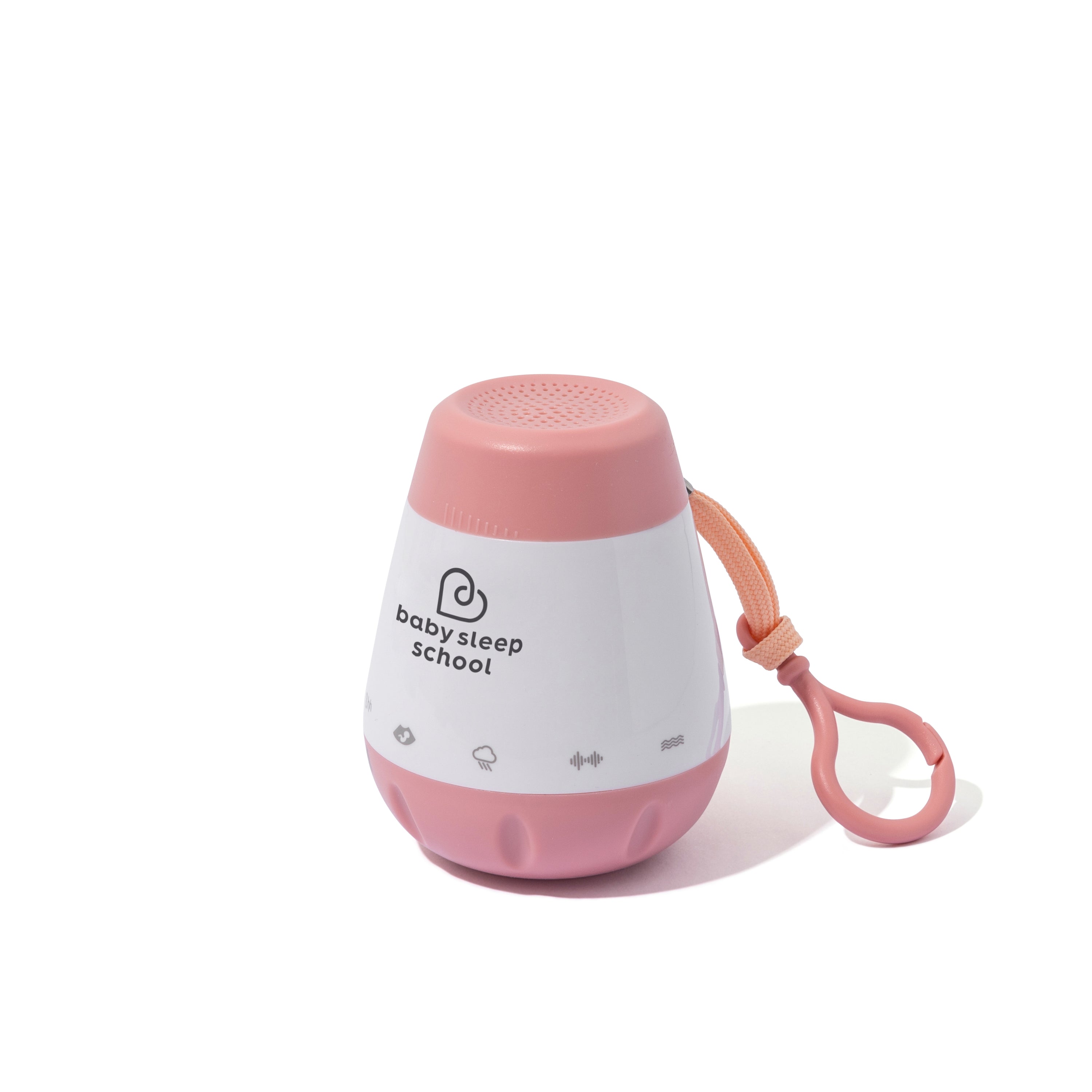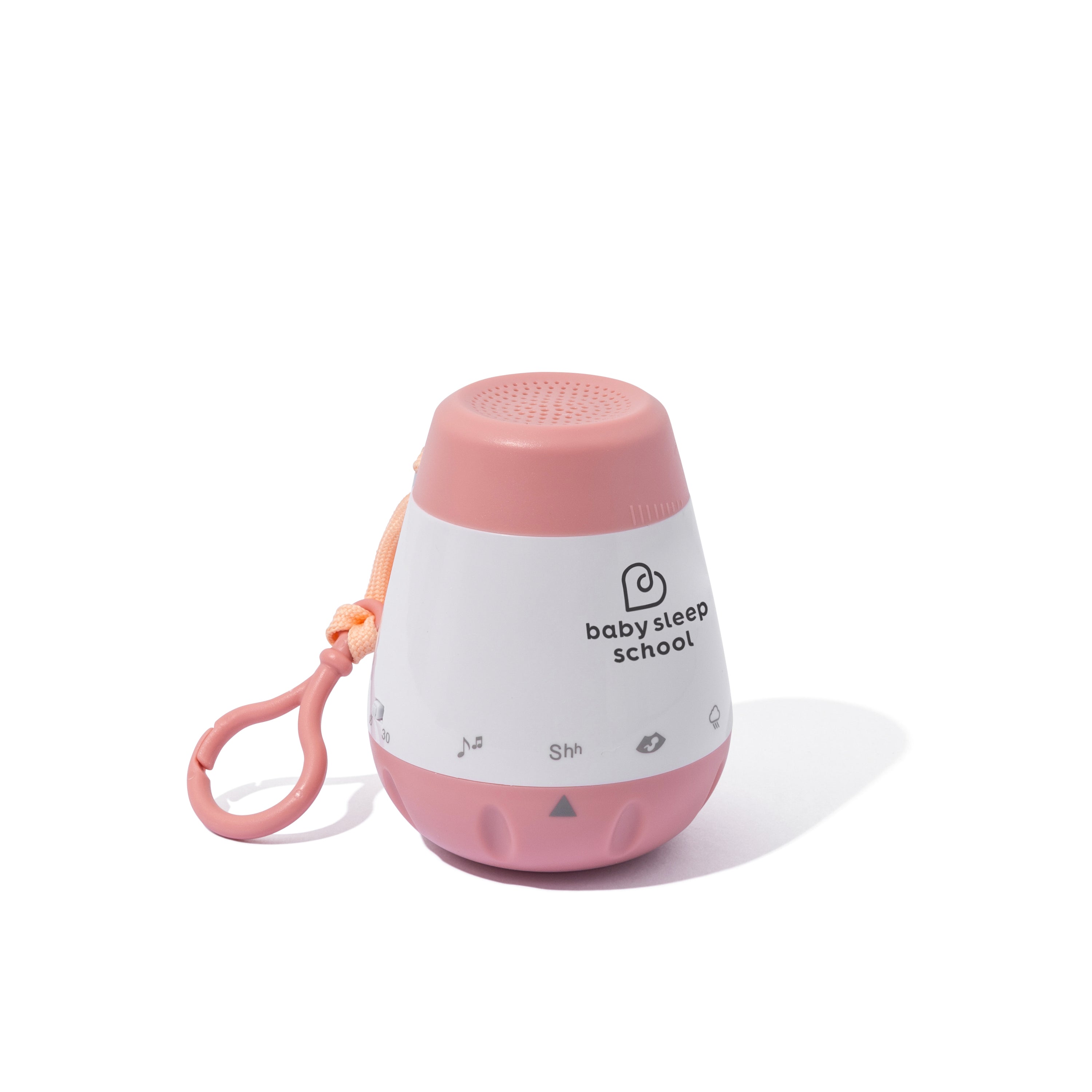 SLEEPY PORTABLE SOUND MACHINE 2 TONE PINK
Description:

SLEEPY PORTABLE SOUND MACHINE
Our amazing portable sound machine is perfect for white noise & lullabies on-the-go! This is our new model with added incredible continuous play function to ensure bubs has beautiful sounds playing for the duration of their sleep.
Features Include:
6 Sleepy Sounds

♪

Lullaby

♩

Shoosh

♥︎

Fetal heartbeat

☔︎

Rain

༄

White noise

⚓︎

Ocean Waves
Easily adjustable volume via the twist top speaker.
Two timer functions:

All new continuous play (switch left) – to ensure baby has beautiful sounds playing for the duration of their sleep.

Voice activation function (switch right) – this automatically enters sleep mode after 30mins and will switch back on when baby starts to cry.
Fully portable & rechargeable.
Handy little clip to attach to pram/car seat/cot.
Packaged in a gorgeous little box along with a user manual & a USB cable.
Please note:

This shoosher is a beautiful machine that needs to be treated with love & respect, much like all other electrical devices. Although it is portable, it is not a toy and it is not built to be thrown or dropped.

Please do not rotate the top or bottom past the last soundtrack or past min/max volume as the machine cannot handle this pressure & the electrics can come

 

loose.
Hot Tip: If you are taking our shoosher out on a bumpy pram ride, please attach it to the pram handle to ensure the device does not get damaged. 
Returns Disclaimer:
As per our returns policy:

We do not accept change of mind returns if you do not 'like' our product.
If you have plugged your shoosher into the wall to be charged & flicked the power point on, that means it has been used therefore we cannot accept it as a return return due to us being unable to review the quality of your electrical fittings/power circuits.
If you believe your product to be faulty, please contact us through our returns page so we can assess the issue at hand so long as this is within our 6 month warranty period.
If you have received this item & have not opened it & wish to return it in it's beautiful original packaging within 30 days of the date of purchase, we will happily refund or provide a store credit upon the items return, however, this will need to be done at your (the customers) expense. Please note: Original packaging is inclusive of ALL packaging, including the bag that the clip is packed in.
If you have any question, please email info@sleepschool.co
SLEEPY PORTABLE SOUND MACHINE 2 TONE PINK
FAQ
Sleepy App
DIGITAL DOWNLOAD-
Our programs are digital files which is only accessible via our 'SLEEPY APP'. 
Once you have purchased the sleepy guide please download our sleepy app via the below links:
APPLE: 
https://apps.apple.com/au/app/sleepy-app/id1525339582
ANDROID/GOOGLE: 
http://play.google.com/store/apps/details?id=com.babysleepschool.sleepyapp
If you are still having trouble logging in, please contact our customer service: hello@sleepschool.co
Please note: This does not include personalised email or phone support from our sleep consultants. This is separate a consultation package, that should be purchased as a separately as a either a home, email or phone consultation. In addition, we can't guarantee results as every baby/child has different sleep issues. There are so many factors that contribute to sleep problems and for further guidance and serious sleep concerns, we recommend you consult your healthcare professional or doctor.
4 Reviews
Stopped working
Just after 6 months (conveniently) our machine started to be very faint and would only work on half volume, eventually when this happened it stopped working all together. We only used this sound machine at home for nap times.
I emailed the company and they offered for me to take advantage of their current sale and buy a new one… A lot of money for something that has stopped working
Took to Thailand - was the best purchase and easy to carry around on plane, tours etc.
Happy
Does everything I need it to do. Easy to use. Surprised how long one battery charge lasts! 6 nights and still going!
Works wonders for helping my newborn sleep longer and not get woken up by my toddler
Best Sound Machine ever!
I was constantly using my phone to keep white noise going for my little one, I purchased the portable sound machine so I can have my phone back during the day! And it is the best purchase I have made. It is so convenient and has the exact sounds I was after, I couldn't live without it now.