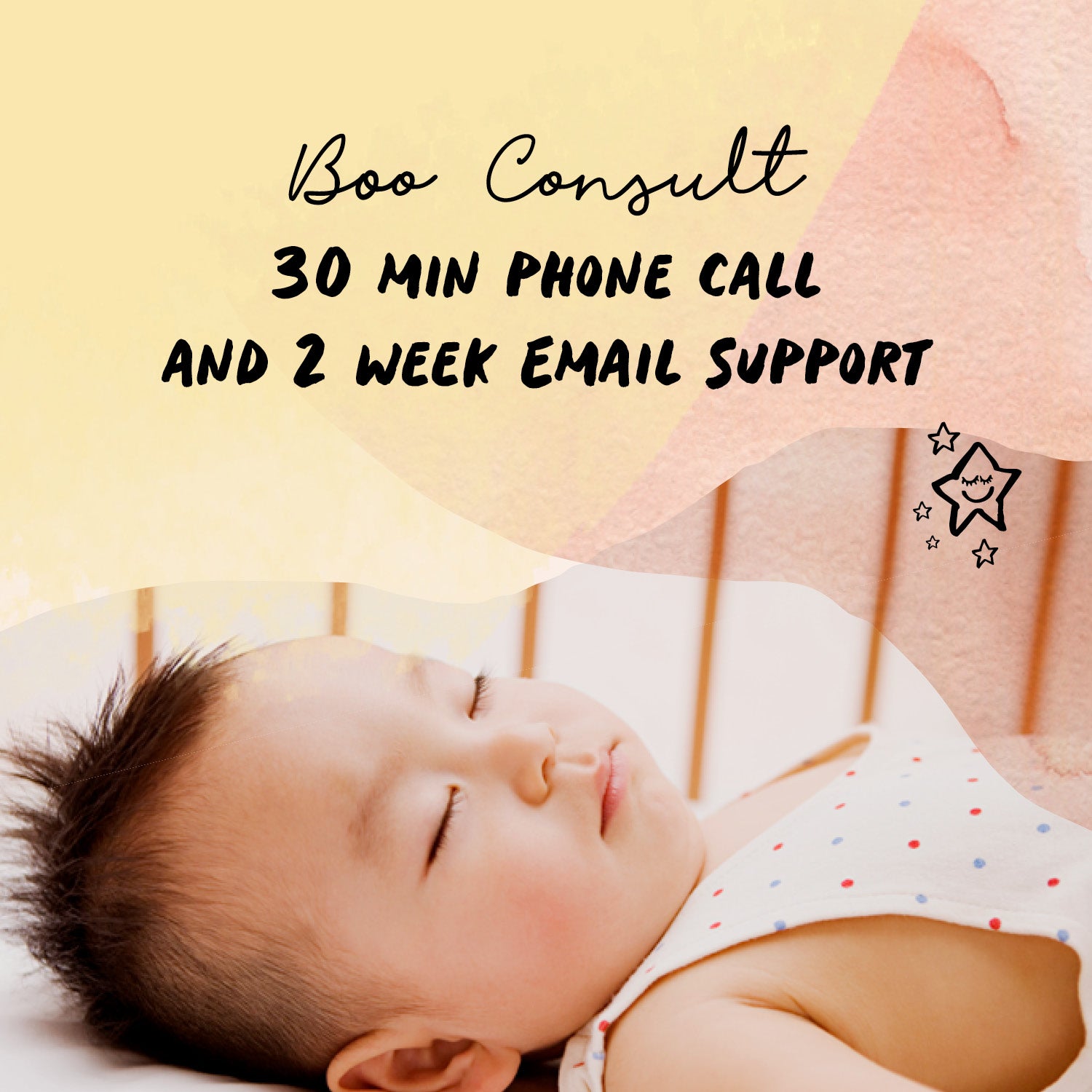 BOO Package - 30 min Phone Consultation and 2 week email support
BOO - 30 Min Phone consultation with 2 week email support 
If you are at your wits end with your baby or toddler's sleep or simply seeking some extra guidance and reassurance then our phone and email consultation is perfect for you. Our qualified sleep consultant will listen to your sleep concerns and walk you through and troubleshoot your issues within the 30 minute consultation.  You will also receive an additional 2 weeks of email support from our consultant ensuring you are on track with your sleep training as well as answer any questions & rectify any sleep issues you may have. So get those questions ready!
This package is packed with information which deep dives into your child's day to day. It is a great fit for anyone needing 1:1 support through various topics and is considered our most popular package and best value for money.
You will then have the option to have free access for 4 weeks on our forum to help assist you further into your support journey.
Phone consultation includes:
30 minute phone consultation from one of our qualified sleep consultants
Follow up email support on Monday- Friday for the following 2 weeks with a 24hr response timeframe.
Questionnaire needs to be completed before we can allocate and for 1 child
Our consultants are here to support you no matter what your sleep concern is. Your concerns will be met with understanding and compassion + we always aim to provide recommendations which align with your parenting style and your babies temperament. 
We love empowering parents with knowledge and confidence. We encourage all of our families to work within their comfort zones and ask that you are honest with your consultant if something doesn't feel right for you his will help us work together as a team and achieve some great sleepy success for your family. 
Our team is also supper experienced and supportive consultants which an arrange of qualifications. 
We believe in realistic and flexible routines; our babies are not robots and neither are we. We encourage you to get out and about and will not pressure you into being a slave to your babies sleep routine. 
Please utilise your follow up support wisely and within the time frame allocated.  Feel free to reach out to your consultant whenever you are ready to use the follow up support. 
We love cuddles but also know sometimes your bub may show readiness for their own bed. Its when mum is ready to do this and ​it is only a problem - if it is a problem for you! To achieve the best results, be open and honest with your consultant. No matter what the issue is we can still work together to optimise the best sleep foundations possible. 
We always hear from our clients that their only regret is not reaching out for help sooner.  Remember; you do not need to be at rock bottom to utilise support from a professional. We are here to help and ready whenever you are. 
Read all our wonderful reviews to learn more on what to expect so book now and let's get started!
NB: This is for one child only 
Once you have purchased this email package please make sure you complete our online questionnaire which will enable us to gain a better understanding of your babies current sleep routine. The link to this questionnaire will be in your confirmation of purchase.
DISCLAIMER: Whilst Baby Sleep School cannot guarantee 100% sleep success as every baby/child has different sleep issues & requirements, our consultants are highly qualified and will do their best to make appropriate suggestions & changes.  There are many factors that contribute to sleep issues.  For further guidance and serious sleep concerns, we recommend you consult your healthcare professional or doctor.
BOO Package - 30 min Phone Consultation and 2 week email support
FAQ
Sleepy App
DIGITAL DOWNLOAD-
Our programs are digital files which is only accessible via our 'SLEEPY APP'. 
Once you have purchased the sleepy guide please download our sleepy app via the below links:
APPLE: 
https://apps.apple.com/au/app/sleepy-app/id1525339582
ANDROID/GOOGLE: 
http://play.google.com/store/apps/details?id=com.babysleepschool.sleepyapp
If you are still having trouble logging in, please contact our customer service: hello@sleepschool.co
Please note: This does not include personalised email or phone support from our sleep consultants. This is separate a consultation package, that should be purchased as a separately as a either a home, email or phone consultation. In addition, we can't guarantee results as every baby/child has different sleep issues. There are so many factors that contribute to sleep problems and for further guidance and serious sleep concerns, we recommend you consult your healthcare professional or doctor.
6 Reviews
Got our sleep back!
After 16 months of absolutely atrocious sleep (we were cosleeping and he would wake up every 1-2 hours), Ebony helped guide us to get our little boy to sleep through the night in his own cot. Unheard of! I would honestly urge anyone who is in need of sleep support to use this service as it saved our sanity. I had been a bit overwhelmed by the cost of so many other sleep consultants, but the BOO package met our needs entirely without sending us broke. Having clear expectations of what the process of sleep training would look like was hugely beneficial to our success, as was knowing that I could reach out for support via email at any time. My boy has been so much happier since learning to sleep through and self-settle, and I feel like I have a new lease on life. Thank you so, so, SO much! Xx
Thanks very much to Ebony for all her support. We were able to ditch the dummy and teach my little one how to SS. The added support was so important as my LO needed a change of approach a few times and having that guidance was so much easier to work through. Definitely worth purchasing a package with follow up support! Can't recommend it higher. Thank you again!!
My partner and I thought we would never be able to get out little man to sleep without a bottle or have day time sleep but with Eb's help and guidance we saw huge change within 2 days, The help and support has been brilliant- thank you Eb!
Life changing 🤯
It will seem exaggerated, but Krista changed our lives in the space of a weekend.
We were spending 5-6 hours a day in a rocking chair getting our 5 month old naps in. Spending an hour and a half to achieve bedtime, which was then followed by a false start, 1-2 hourly wakes, feeding or patting back to sleep, and early rising (4-5am).
Now our little one self settles for naps and bedtime. Sleeps 11-12 hours overnight with one feed. We spent the two weeks follow up support messaging Krista every single day with 'what if this happened' or tweaking the day routine to accommodate our changing schedule and still achieve a great nighttime sleep.
I have been, and will continue to recommend Krista and Baby Sleep School for years to come after our experience over the last fortnight. Can not thank Krista enough 🥰
Absolutely life changing
I am writing to express my sincere gratitude to Eb for her help in improving my 5.5-month-old baby's sleep. After our 30-minute consultation, I saw immediate results. My baby went from catnapping, waking up multiple times overnight, and needing to be fed to sleep to taking consolidated naps, waking up only 2 times overnight, and self-soothing back to sleep. I never thought that putting my baby down "drowsy but awake" would work, but Eb showed me that we were just doing it wrong.
My husband and I are so much more confident in our ability to troubleshoot any sleep-related issues that might arise in the future. We also love that we have a structured, yet flexible schedule that we can work with to ensure our baby gets the most restorative sleep possible. Eb's help has also pushed us to transition our toddler to her own room, which has been a huge success.
I cannot thank Eb enough for her expertise and guidance. She is truly a sleep expert and I highly recommend her to anyone who is struggling with their baby's sleep.