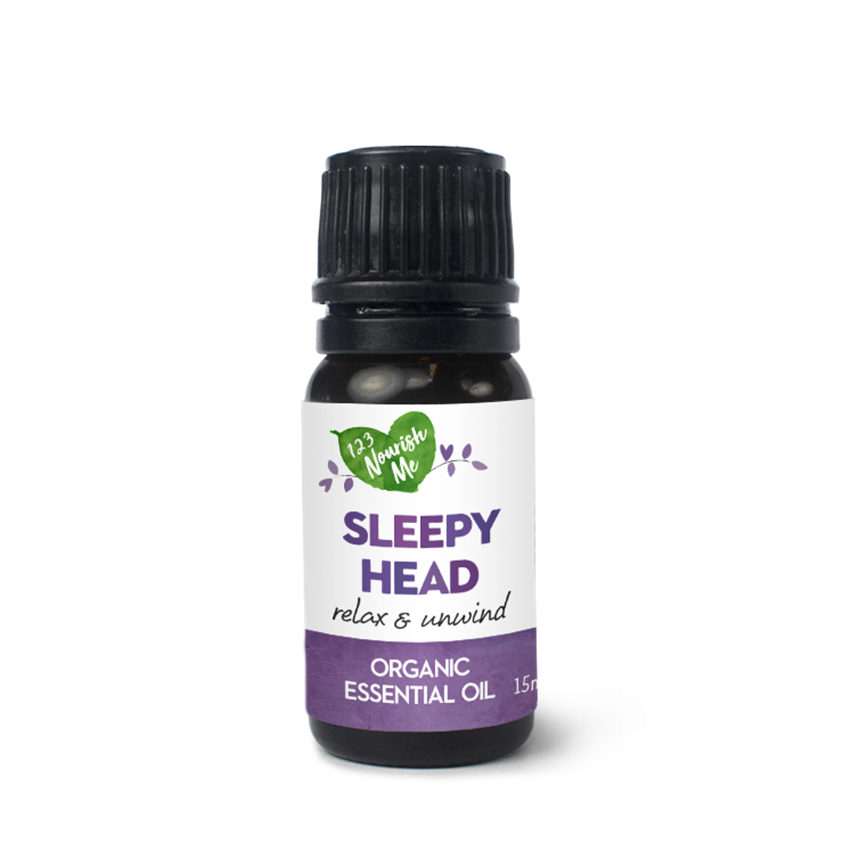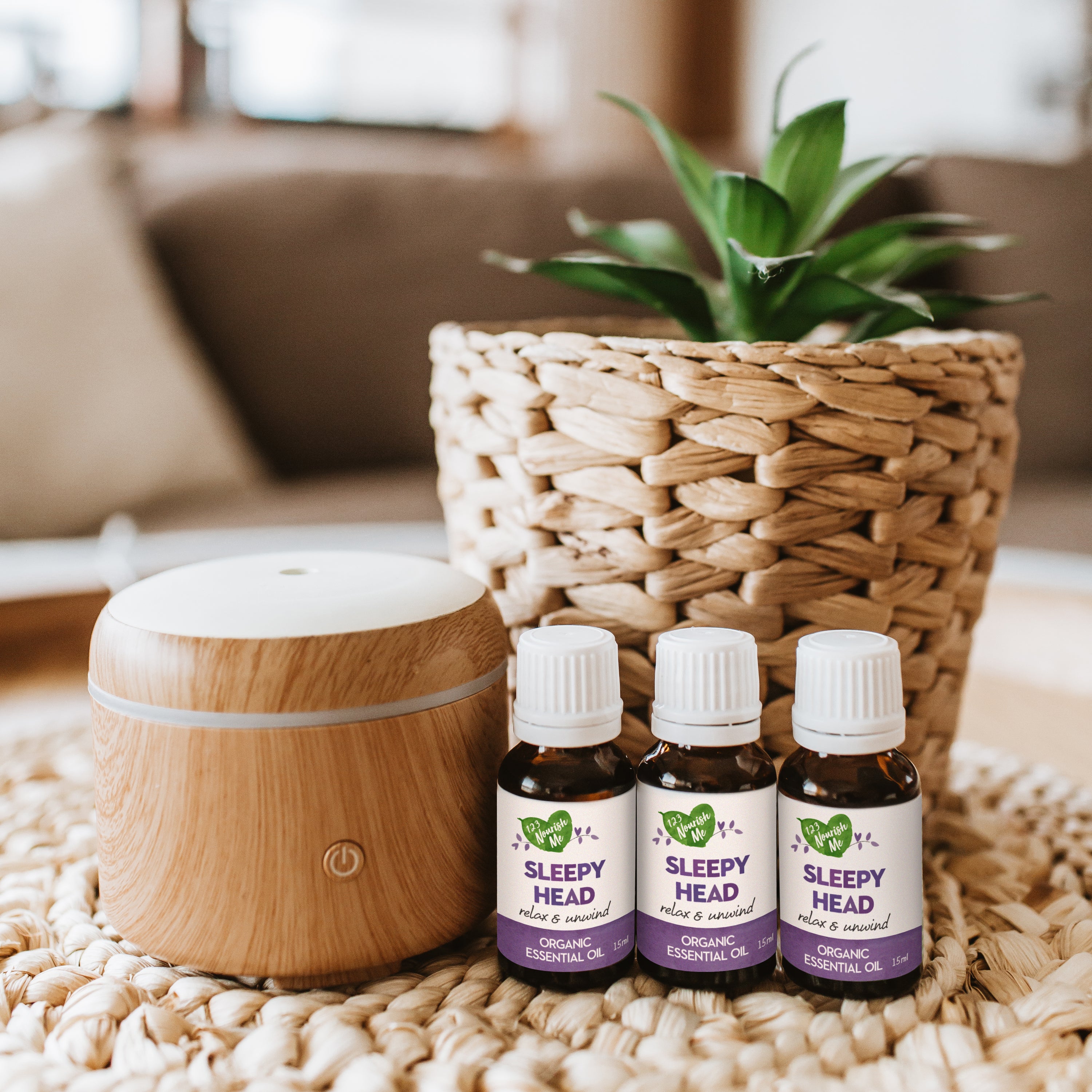 Sleepy Head – Certified Organic Essential Oil - 123 Nourish Me
Sleepy Head Essential Oil by 123 Nourish Me
NB: Recommended for 6 months and over

Safety info – Essential oils should not be used topically on children less than 2 years. Essential Oils should only be used on children highly diluted under supervision of a qualified aromatherapist or medical practitioner.
100% Certified Organic Essential Oil Blend
For use in a diffuser or oil burner
Can be used in a bath for relaxation
Specifically created to use with children in mind
Encourages relaxation and wellbeing
Stunning sweet blend of Lavender, Sweet Orange, Palmarosa
Net weight: 15ml
How to use Sleepy Head Oil
Add 6 drops to water in your vaporiser or oil burner to soothe and comfort.   Diffuse up to 1 hour 3 times daily.  For bathtime: Add 4–5 drops to 1 cup of Epsom salts for a calming bath.
Caution: Store below 30°C. Not to be taken orally. Keep out of reach of children.
What's in Sleepy Head Essential Oil?
Certified Organic Oils: Lavandula Angustifolia (Lavender), Citrus Aurantium Dulcis (Sweet Orange) Peel, Pelargonium Graveolens (Geranium) Leaf, Cymbopogon Martini (Palmarosa), Citrus Aurantium Bergamia (Bergamot) Peel, Cedrus Atlantica (Cedarwood) Wood, Anthemis Nobilis (Chamomile) Flower.
The Good Stuff
Organic Lavender
The health benefits of lavender essential oil include its ability to eliminate nervous tension, relieve pain, enhance blood circulation and treat respiratory problems. The Latin name of lavender is Lavare, which means "to wash", due to its particularly pleasant aroma.
Organic Sweet Orange Peel
Sweet orange peel essential oil is used for its anti-inflammatory, antidepressant, and antiseptic properties. In addition, some studies suggest that foods rich in vitamin C may boost immunity and help heal wounds.
Organic Geranium
Geranium oil is used to reduce inflammation, alleviate anxiety and balance hormones. This sweet-smelling oil can also uplift mood, lessen fatigue and promote emotional wellness.
Organic Palmarosa
Palmarosa essential oil is known to nourish and restores skin health and harmony. It is also known for its ability to rejuvenate tired, sore feet. Having both calming and uplifting effects, it is a tonic for the heart and mind.
Organic Bergamot Peel
With both calming and uplifting abilities, Bergamot can dissipate anxious feelings while simultaneously providing cleansing and purifying benefits.
Organic Cedarwood
Cedarwood is known to be one of the best natural sedatives that can help relax your mind and get you the sleep you need. Additionally, the scents released in Cedarwood aromatherapy can help calm down any anxiety or stress that you may be feeling and tone down any depressive thoughts.
Organic Chamomile
Chamomile is known to soothe the senses and calm the central nervous system, thus triggering the sleep hormones.
Sleepy Head – Certified Organic Essential Oil - 123 Nourish Me
FAQ
Sleepy App
DIGITAL DOWNLOAD-
Our programs are digital files which is only accessible via our 'SLEEPY APP'. 
Once you have purchased the sleepy guide please download our sleepy app via the below links:
APPLE: 
https://apps.apple.com/au/app/sleepy-app/id1525339582
ANDROID/GOOGLE: 
http://play.google.com/store/apps/details?id=com.babysleepschool.sleepyapp
If you are still having trouble logging in, please contact our customer service: hello@sleepschool.co
Please note: This does not include personalised email or phone support from our sleep consultants. This is separate a consultation package, that should be purchased as a separately as a either a home, email or phone consultation. In addition, we can't guarantee results as every baby/child has different sleep issues. There are so many factors that contribute to sleep problems and for further guidance and serious sleep concerns, we recommend you consult your healthcare professional or doctor.
Reviews
Incredible product
I just love this oil. It is part of our bedtime routine and the familiar smell goes with us if we are on holiday or sleeping over at Nannas house. Great value for money too!