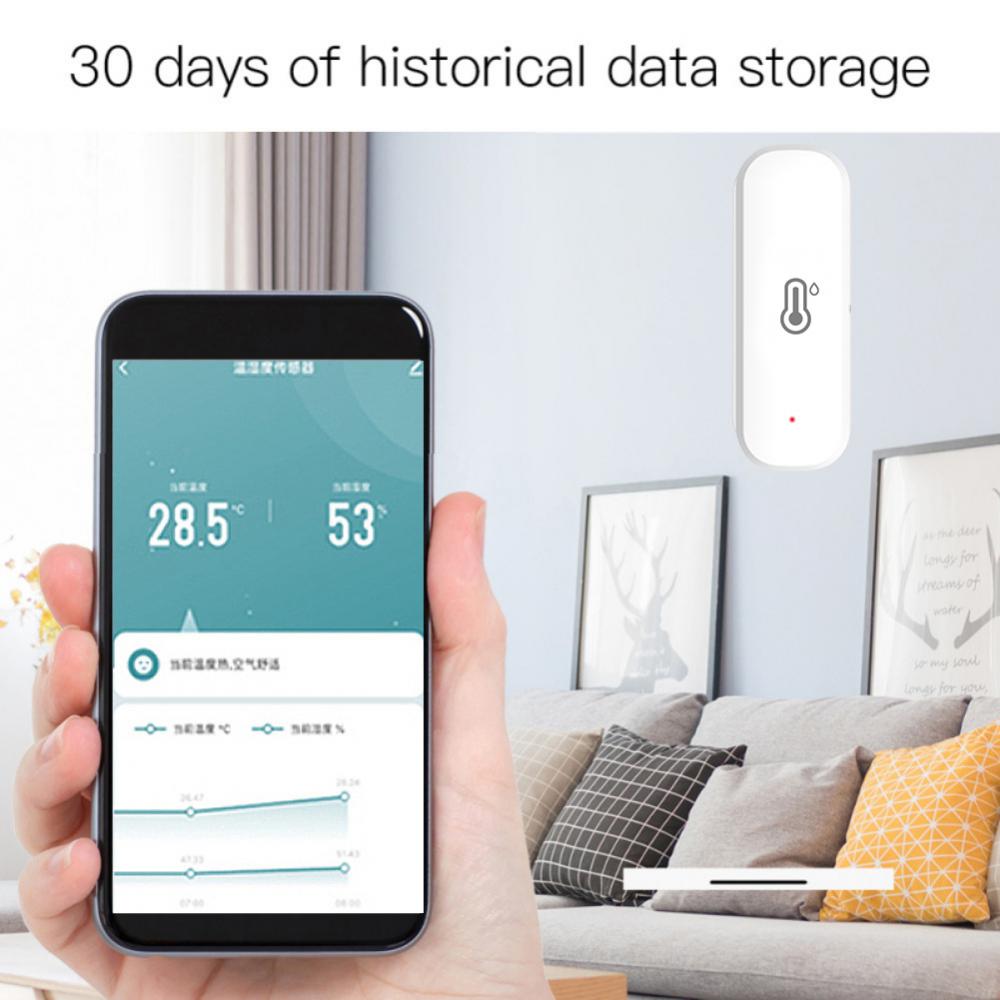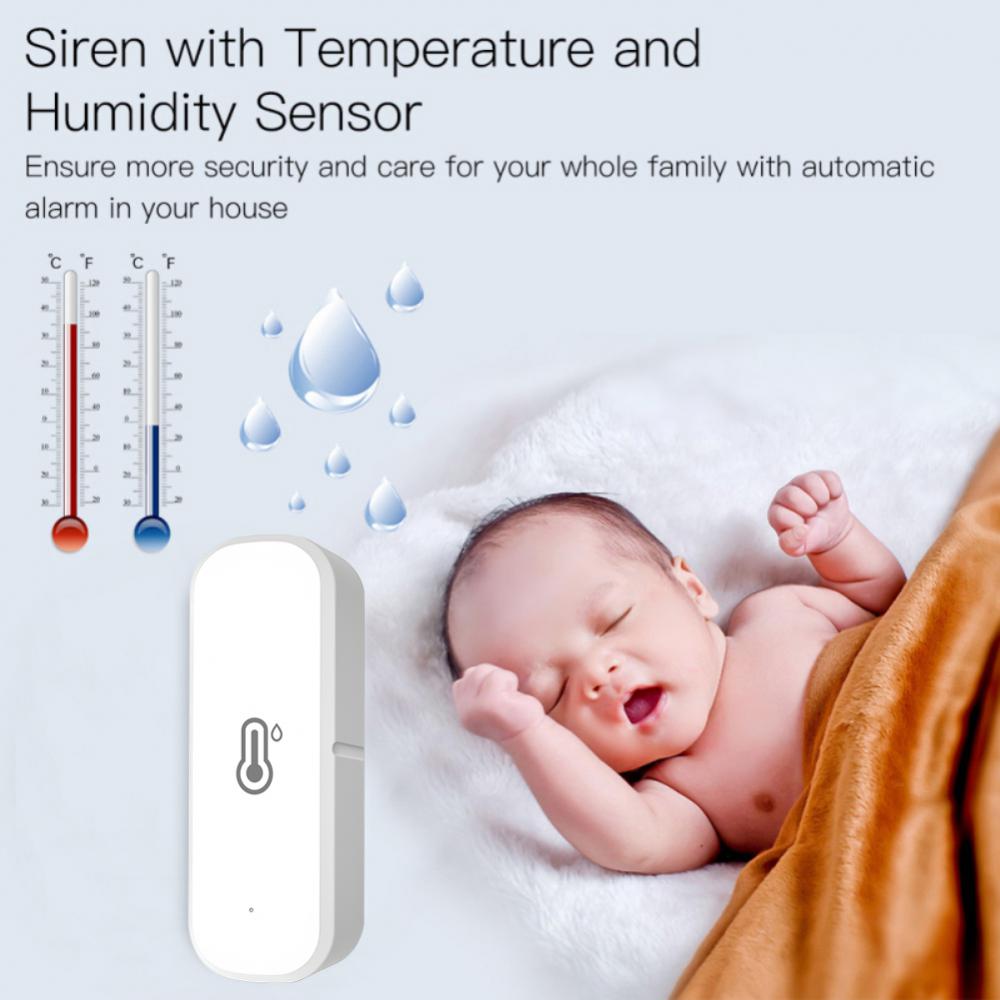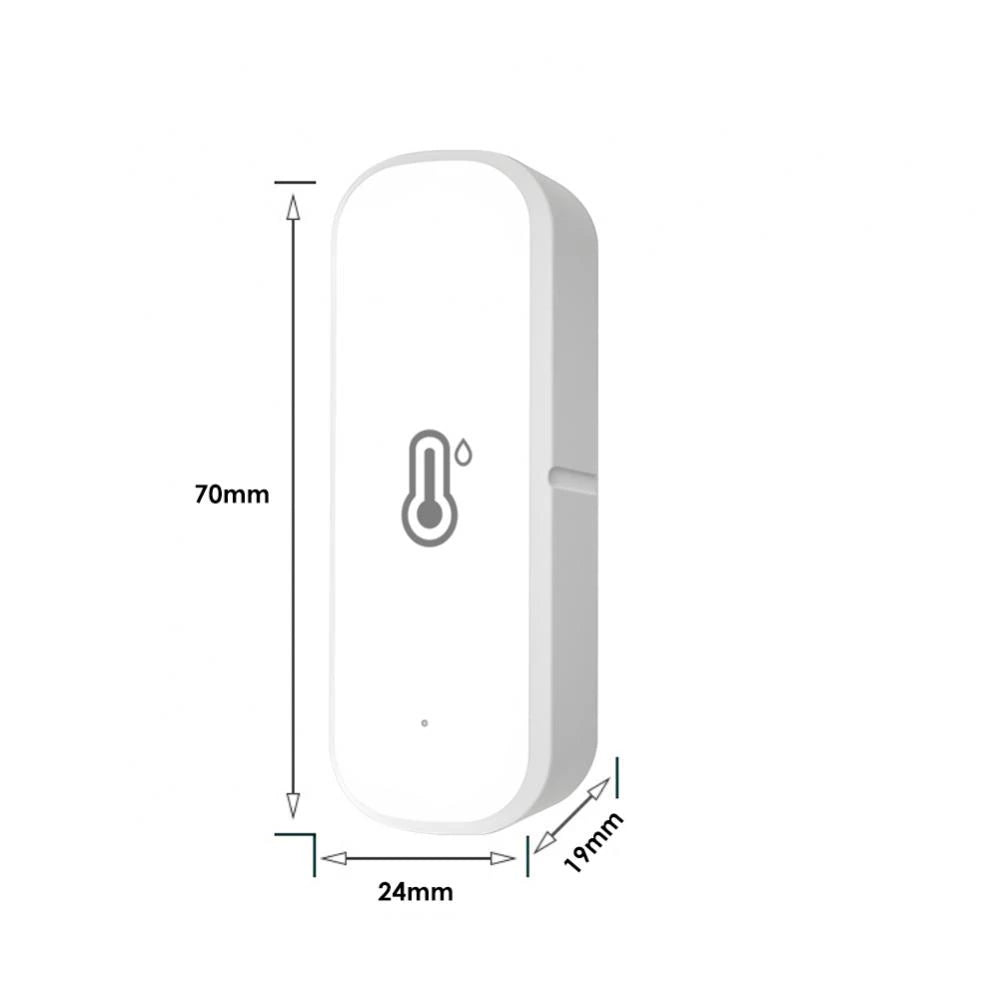 WiFi Temperature & Humidity Sensor
Description:WiFi Temperature Sensor
Our newest incredible little gadget is barely noticeable but plays a HUGE part in keeping bubs comfortable whilst sleeping. This Wifi Temperatue Sensor connects through to your phone to give you a real-time perception of temperature & humidity in bubs sleeping environment.
Features Include:
Real Time readings of Temperature & Humidity
Records kept for 30 days.
Compatible with Google Home & Alexa meaning you can also sync to your airconditioner/humidifier/heater & keep bubs room at the temperature perfect.
SIZE: 7cm (H) x 2.4cm (L) x 1.9cm (W)
Easily sticks to the wall or to the side of bubs cot or drawers.
Requires x2 AAA batteries (Not included)
Working Temperatures between -10C to 50C
Please note:

 This tiny machine is not a toy, please avoid allowing children to play with the thermometer.

Please ensure Thermometer is stuck up high out of reach of little hands.
Returns Disclaimer:
As per our returns policy:

We do not accept change of mind returns if you do not 'like' our product.
If you have plugged your machine into the wall to be charged & flicked the power point on, that means it has been used therefore we cannot accept it as a return return due to us being unable to review the quality of your electrical fittings/power circuits.
If you believe your product to be faulty, please contact us through our returns page so we can assess the issue at hand so long as this is within our 6 month warranty period.
If you have received this item & have not opened it & wish to return it in it's beautiful original packaging within 30 days of the date of purchase, we will happily refund or provide a store credit upon the items return, however, this will need to be done at your (the customers) expense. Please note: Original packaging is inclusive of ALL packaging.
Shipping:
Please note this products estimated delivery time is 10-12 business days, it will be
sent
from our international warehouse & will be shipped separately to any other products ordered. Express Shipping is not available on this item.
If you have any question, please email info@sleepschool.co
WiFi Temperature & Humidity Sensor
FAQ
Sleepy App
DIGITAL DOWNLOAD-
Our programs are digital files which is only accessible via our 'SLEEPY APP'. 
Once you have purchased the sleepy guide please download our sleepy app via the below links:
APPLE: 
https://apps.apple.com/au/app/sleepy-app/id1525339582
ANDROID/GOOGLE: 
http://play.google.com/store/apps/details?id=com.babysleepschool.sleepyapp
If you are still having trouble logging in, please contact our customer service: hello@sleepschool.co
Please note: This does not include personalised email or phone support from our sleep consultants. This is separate a consultation package, that should be purchased as a separately as a either a home, email or phone consultation. In addition, we can't guarantee results as every baby/child has different sleep issues. There are so many factors that contribute to sleep problems and for further guidance and serious sleep concerns, we recommend you consult your healthcare professional or doctor.
Reviews
BEST INVENTION EVER
This thermometer is amazing! So handy! Links to your phone & is so easy to use!
Amazinggggg
This device is a game changer. I couldn't justify the more expensive temp gadgets on the market. This is sooo affordable and goes to show how inaccurate the monitor is. So handy knowing what the temp is in the room without going into the room
Great Investment
This is super handy to have as we are not sneaking into her room checking the temp when we can just check it on our phones any time day or night.