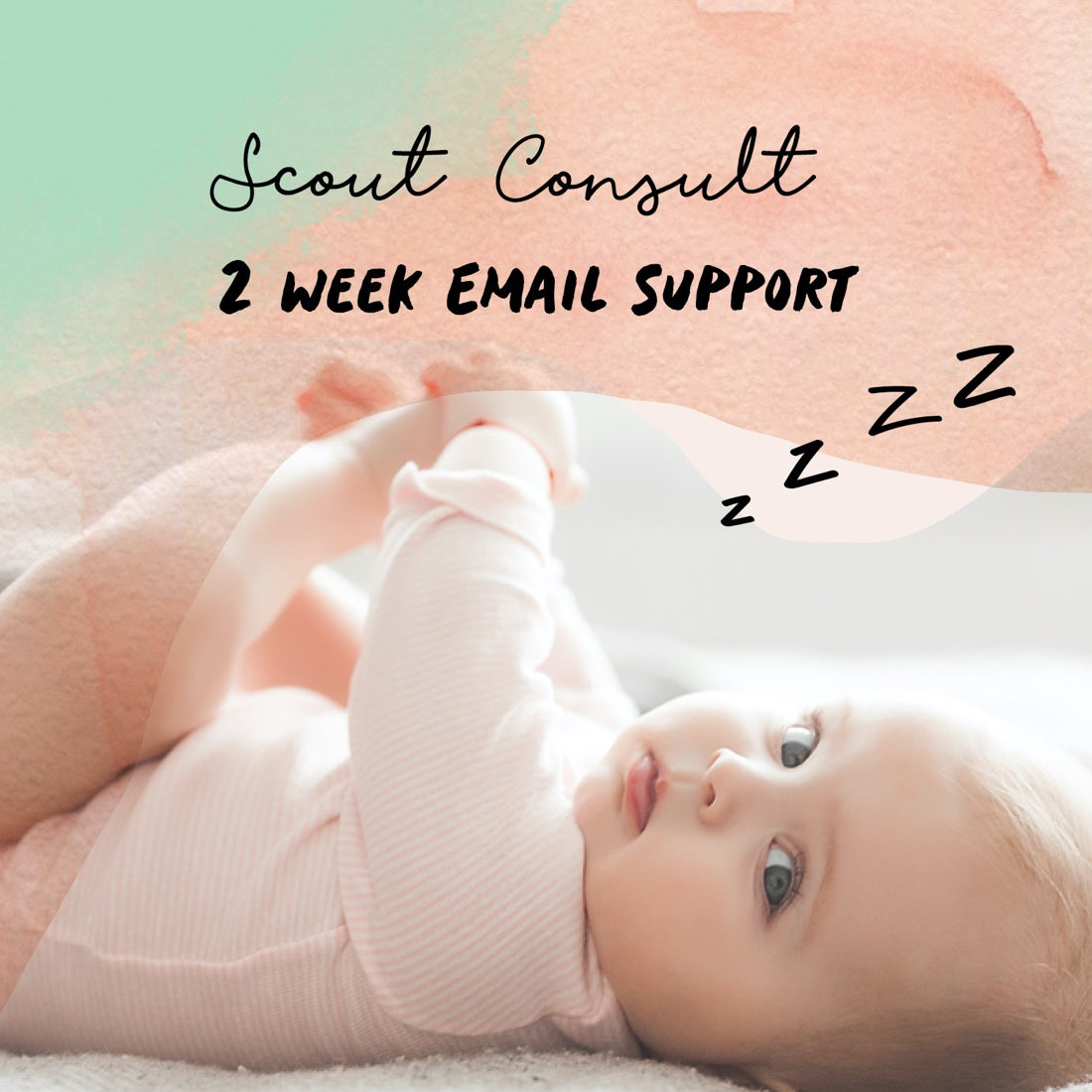 SCOUT- EMAIL CONSULTATION with 2 week support
Support per 1 child.
If you have twins or 2 children please purchase 1 support per child.
This consult is the perfect fit for you if you would like continued support during your sleep journey. We offer age appropriate, gentle and effective settle techniques addresses your sleep issues/concerns and offer advice to solve them. There is also the option to tailor the guide/routine according to your families needs (if deemed appropriate by the consultant). This is also our most popular package offering some amazing support and reassurance with our very experienced team within a 2 week timeframe between Monday - Friday allowing for a 24hr response and we normally check in every couple of days. 
You will then have the option to have free 4 week access on our forum to help assist you further into your support journey.
All you need to do is complete your questionnaire and then your 2 week support starts when the consultant sends that first response back after reading your details. 
If this is URGENT please email Cassie: hello@sleepschool.co and will allocate you to a consultant as an urgent case.
What to expect
Our consultants are here to support you no matter what your sleep concern is. Your concerns will be met with understanding and compassion + we always aim to provide recommendations which align with your parenting style and your babies temperament. 
We love empowering parents with knowledge and confidence. We encourage all of our families to work within their comfort zones and ask that you are honest with your consultant if something doesn't feel right for you his will help us work together as a team and achieve some great sleepy success for your family. 
Our team is also supper experienced and supportive consultants which an arrange of qualifications. 
We believe in realistic and flexible routines; our babies are not robots and neither are we. We encourage you to get out and about and will not pressure you into being a slave to your babies sleep routine. 
Please utilise your follow up support wisely and within the time frame allocated.  Feel free to reach out to your consultant whenever you are ready to use the follow up support. 
We love cuddles but also know sometimes your bub may show readiness for their own bed. Its when mum is ready to do this and ​it is only a problem - if it is a problem for you! To achieve the best results, be open and honest with your consultant. No matter what the issue is we can still work together to optimise the best sleep foundations possible. 
We always hear from our clients that their only regret is not reaching out for help sooner.  Remember; you do not need to be at rock bottom to utilise support from a professional. We are here to help and ready whenever you are. 
Read all our wonderful reviews to learn more on what to expect so book now and let's get started!
NB: This is for one child only 
Once you have purchased this email package please make sure you complete our online questionnaire which will enable us to gain a better understanding of your babies current sleep routine. The link to this questionnaire will be in your

confirmation of purchase

.
DISCLAIMER: Whilst Baby Sleep School cannot guarantee 100% sleep success as every baby/child has different sleep issues & requirements, our consultants are highly qualified and will do their best to make appropriate suggestions & changes.  There are many factors that contribute to sleep issues.  For further guidance and serious sleep concerns, we recommend you consult your healthcare professional or doctor.
FAQ
Sleepy App
DIGITAL DOWNLOAD-
Our programs are digital files which is only accessible via our 'SLEEPY APP'. 
Once you have purchased the sleepy guide please download our sleepy app via the below links:
APPLE: 
https://apps.apple.com/au/app/sleepy-app/id1525339582
ANDROID/GOOGLE: 
http://play.google.com/store/apps/details?id=com.babysleepschool.sleepyapp
If you are still having trouble logging in, please contact our customer service: hello@sleepschool.co
Please note: This does not include personalised email or phone support from our sleep consultants. This is separate a consultation package, that should be purchased as a separately as a either a home, email or phone consultation. In addition, we can't guarantee results as every baby/child has different sleep issues. There are so many factors that contribute to sleep problems and for further guidance and serious sleep concerns, we recommend you consult your healthcare professional or doctor.
17 Reviews
Amazing results and support
Firstly, a huge THANK YOU! Percy has had huge improvements.
We have successfully taken away over night feeds (unless unwell, I would feed once upon waking) and explain boobie will see you in the morning.
The stretch of sleep has drastically changed from 2hrly wakes to 6+ hours, still yet to see a full night with no wakes, and still yet to settle in the cot alone but we had a few setbacks (asthma and hospital stay, closely followed by a chest infection).
The support from our facilitator was great. I couldn't have done it without you! Thank you so much. The words of encouragement and empathy really made me feel like a good mummy.
I would like to offer some constructive feedback, in my own opinion.
I COMPLETELY understand that your team have lives outside of work but I'm wondering if a live chat or faster stream of reply would be beneficial for those late night/ mornings when we are feeling depleted and want to give in? Not just a support stream but also educational feedback etc.
I found Percy's plan really hard to read. I would have found it easier if I could have had everything step by step with recommendations. It was suggested I print it out and highlight sections. A step by step plan would have been great to print on the fridge and refer to at all times. (Alongside of the relevant information).
I was thinking it would be:
1: have dinner
2: bath/ shower child
3: dress into PJs
4: feed
5: get up and put child in seeping bag
6: say goodnight to family
7: turn off bedroom lights
8: turn on white noise/ music
9: rock child to nearly asleep and place in cot
10: pat to sleep
For examples sake.
Thank you so much for all of your help xxx
My son just turned 1 - he wasn't sleeping through the night and I was rocking him to sleep every night - I knew it was time to contact baby sleep. Eb has been such a great help. By following the suggestions that she provided there has been a big change in how my son goes to sleep. He has also being sleeping through which is amazing not only for him but for me too. Eb was so amazing - continuously checking in and also answering any questions I had or providing solutions to any issues that occurred during the 2 week period. I will be forever grateful for the assistance I received from Baby Sleep School - will definitely recommend to friends. Thanks so much for all your help Eb :)
I was hesitant to book a consult but with Ebs help we've achieved much more consistent night sleep and better day naps with our little one- defs recommend!
Little routine tweaks for the sleep win!
We had a consult with Eb with 2 weeks email follow up support. Definitely worth the investment in time and money. Our little one was deep in the 12 month sleep regression after having been an amazing sleeper who loved to sleep. By following the suggestions Eb made to make small changes in our routine, we have our amazing little sleeper back and feel confident to tackle future regressions head on. Eb was so patient with our little one getting Covid during the support period. We paused and resumed when she was recovered. Highly recommend to anyone who is on the fence about purchasing a consult.
6mo night wakes
Being a second time mum I thought I had all the answers and I was at my wits end trying to get my 6mo to sleep at night. The program Ebony sent through and her constant support and feedback has got us back on track and my little one now does consistent day naps and 12hrs overnight.